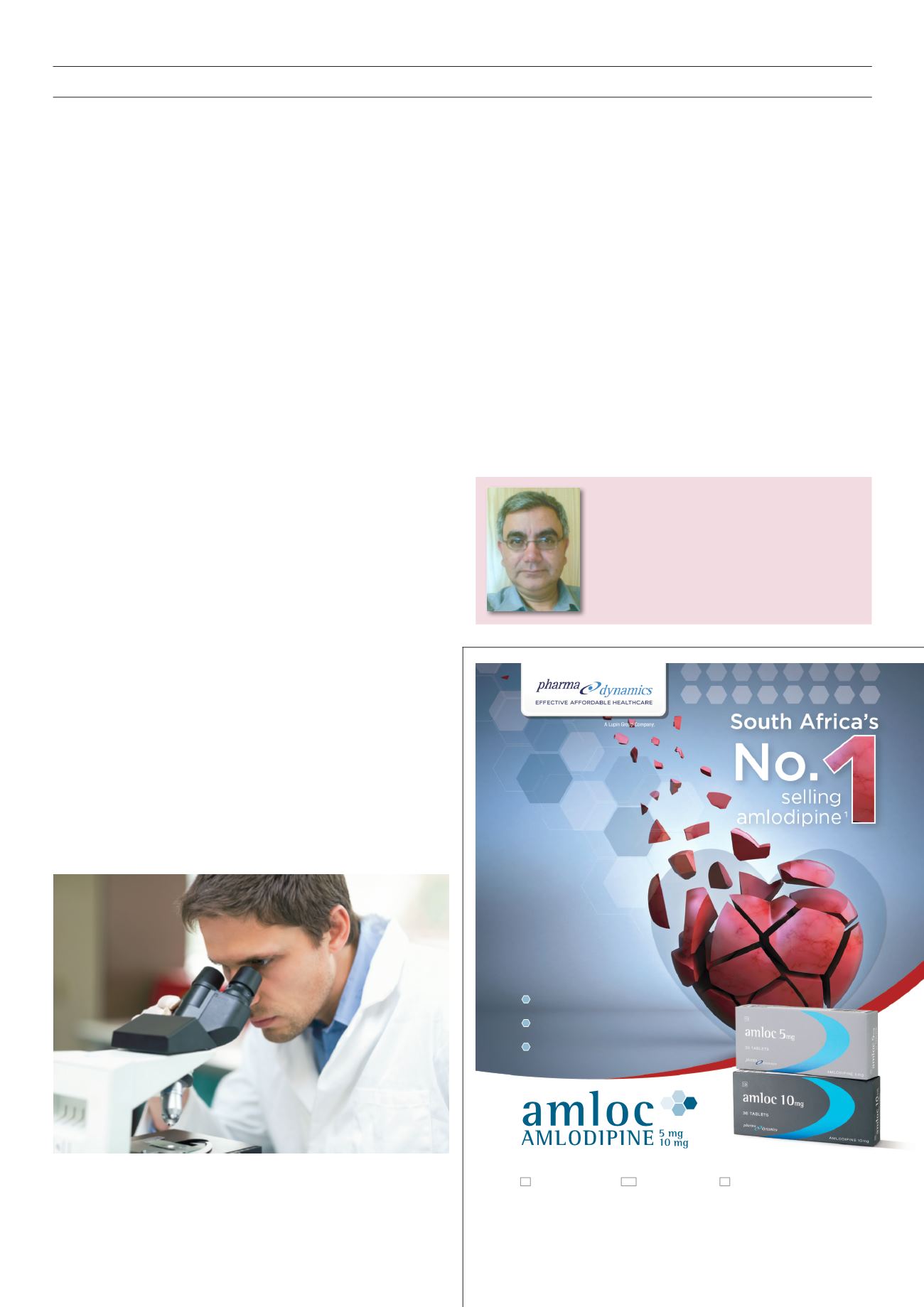 VOLUME 14 NUMBER 1 • JULY 2017
3
SA JOURNAL OF DIABETES & VASCULAR DISEASE
EDITORIAL
From the Editor's Desk
Correspondence to: FA Mahomed
Department of Internal Medicine, University of the
Free State, Bloemfontein
e-mail:
fazmah@hotmail.com
S Afr J Diabetes Vasc Dis
2017;
14
: 3
AMLOC 5 and 10 mg.
Each tablet contains amlodipine maleate equivalent to 5, 10 mg amlodipine respectively.
S3 A38/7.1/0183, 0147. NAM NS2 06/7.1/0011, 0012. BOT S2 BOT 0801198, 0801199. For full prescribing
information, refer to the package insert approved by the Medicines Control Council, 25 November 2011.
1)
IMS MAT UNITS Dec 2016.
2)
Dahlof B, Sever PS, Poulter NR,
et al.
for the Ascot investigators. Prevention
of cardiovascular events with an antihypertensive regimen of amlodipine adding perindopril as required versus
atenolol adding bendroflumethiazide as required, in the Anglo-Scandinavian Cardiac Outcomes Trial - Blood
Pressure Lowering Arm (ASCOT-BPLA): a multicentre randomised controlled trial. Lancet 2005;366:895-
906.
3)
Nissen SE,
et al.
Effect of antihypertensive agents on cardiovascular events in patients with
coronary disease and normal blood pressure. The CAMELOT study: A randomised controlled trial. JAMA
2004;292:2217-2226.
ACE399/04/2017
.
CUSTOMER CARE LINE
0860 PHARMA (742 762)
www.pharmadynamics.co.za
WHEN ALL
THE PARTS FIT...
EFFICACY
2
SAFETY
2
PROVEN OUTCOMES
3
PERFECTLY.
T
his edition of the journal looks at a number of subjects, from
the vascular effects of pioglitazone and homocysteine, to
phototherapy in diabetic foot disease, and an explanation of
the bioecological model, among others.
Tugrul
et al.
(page 24) studied aortic contractility in the presence
of pioglitazone and losartan. Their research in rats showed a
decreased contractile response to phenylephrine when these drugs
were present. This supports the notion of the pleiotropic effects of
PPAR agonists,
1
and may indicate additional beneficial effects of
pioglitazone.
Hapunda and co-authors (page 11) present an excellent
exposition of the bioecological model with which one can
obtain a holistic view of diabetes care, from the individual to the
systems that operate around that individual. This article gives one
an understanding of the bioecological model and the areas of
intervention.
Sithole and Abrahamse (page 4) show us the tremendous
value of podiatric interventions, including phototherapy, in the
management of diabetic foot ulcer disease. Foot ulcers have a great
impact on the patient's quality of life and may be the precursor
to worse outcomes, such as severe sepsis and amputations.
2
This article also shows very clearly that the podiatrist is of crucial
importance in the management of diabetic foot ulcer disease.
Zand Parsa and Jahanshahi (page 29) add to the debate around
measurements of obesity and their relationship to cardiovascular
risk.
3
They re-affirm the utility of waist:hip ratio measurements as
an indicator of cardiovascular risk, and also highlight the interesting
negative correlation that they found with body mass index. They
discuss the implications and the possible reasons for this.
Sengwayo
et al.
(page 33) looked for an association between
homocysteine level and the metabolic syndrome. This would have
provided a link between vascular dysfunction and elements of the
metabolic syndrome, which has been postulated before.
4
They
found a link only to hypertension. This needs to be investigated
further.
Pillay and Aldous (page 18) show how low-resourced diabetes
clinics can make a difference to their quality of care by restructuring
the clinic to emphasise a multidisciplinary approach to care and
the use of proper documentation. This is an important theme in
the work of these authors.
5
Poor diabetes care can lead to many
complications and a high burden of disease for the individual as
well as the healthcare system.
References
1.
Radenkovic
'
M. Pioglitazone and endothelial dysfunction: Pleiotropic effects and
possible therapeutic implications.
Scientia Pharmaceutica
2014;
82
: 709–721.
2.
Reiber GE, Boyko EJ, Smith DG. Lower extremity foot ulcers and amputations in
diabetes.
Low Extrem
[Internet] 1995;
2
: 409–428. Available from: http://ndic.
circlesolutions.com/dm/pubs/america/pdf/chapter18.pdf.
3.
Lee CMY, Huxley RR, Wildman RP, Woodward M. Indices of abdominal obesity
are better discriminators of cardiovascular risk factors than BMI: a meta-analysis.
J Clin Epidemiol
2008;
61
: 646–653.
4.
Ragone R. Homocystine solubility and vascular disease.
FASEB J
[Internet] 2002;
16
(3): 401–404. Available from:
http://www.ncbi.nlm.nih.gov/pubmed/11874989.
5.
Pillay S, Aldous C, Mahomed F, Pillay S, Aldous C, Mahomed F. Improvement noted
after a multifaceted approach to diabetes mellitus management.
J Endocrinol
Metab Diabetes S Afr
2016;
21
: 8–12.